emothy
[ Prince of Tennis, Another Story ]
EP4 - The Trials of Rikkai

Kirihara: Starting today, I'm a Rikkai Middle School freshman, huh?
Kirihara: At this school I'll join the tennis club that's number one in the nation!
Kirihara: Then I'll become number one!
Teacher: Hey! what do you think you're doing up there? Get yourself down this instant!
Kirihara: S-Sorry!



Teacher: Look sharp, Kirihara! ...You realise you slept through the entire lesson.
Kirihara: Oh no! [grabs his bag and turns to leave]
Teacher: Wait now, I'm not through talking to you!
Kirihara: I'm sorry, but I got something real important to do!
Teacher: I have something real important for you to do, too.
Kirihara: Eeeep

---

Marui: Freshman, get in line!
Jackal: Hmm...
Marui: How is it? How's new member registration going?
Jackal: We've got three time the people as last year.
Marui: Yeah but... Doesn't look like any of them are that tough.
Jackal: Most of them came to register because they want to watch. We'll have a lot of drop-outs half a month from now.
Marui: Oh yeah! That kid isn't here.
Jackal: Kid?
Marui: Y'know! The one on top of the main gate. The one howling, "I'll be number one!"
Jackal: ...Right, there was that idiot.

---


Kirihara: Damn it! Now I'm super late!
Kirihara: Okay... Now where was the tennis club room?
Kirihara: Hey, you! Hey, are you maybe from the tennis club? Where's the club room? Can you tell me?
Niou: Heh.

---

Kirihara: Sorry I'm late!
Yagyuu: Do you have business in the Student Council Room?
Kirihara: Student Council Room? This is the Student Council Room?
Yagyuu: It is indeed.
Kirihara: That's weird...
Yagyuu: Someone's played a trick on you then. What a troublesome fellow he must be.






Kirihara: That bastard... He sure got me good!
Kirihara: I'll knock him one for sure!
Kirihara: Dang it, where is that guy? [gets a poke on the cheek] What're you doing?!
Marui: This is what you're lookin' for, isn't it?
Kirihara: Club Entry Registration? That's right! This is it! I'm the freshman, Kirihara Akaya! Rikkai Middle School Tennis Club's Super Rookie! The Kirihara of whom you have heard so much... is me!
Marui: [snorts] ...HEHEHEHE.
Kirihara: Is it possible you haven't heard of me? That's weird. I'm a pretty well known guy in the Junior League.
Jackal: We can go through that after you hand in your registration. Go get changed quick, then you can join the others in swing practice.
Kirihara: Huh, swing practice? You're kidding! Don't you think I can get right to having a match with the strongest guys? See, I want to make it to number one A.S.A.P.
(Third Year): Who are you?
Kirihara: I know you! You're from this, you're these guys, right? [pulls out magazine with Nationals article in it] See! Right?
(Third Year): That's from when we won the National Tournament.
Kirihara: Oh man, what an honor! I have always admired you guys.
Kirihara: 'If I can defeat these guys, I'll be number one in the nation!'

---


Jackal: Is this for real?
Marui: He won every single match.
Kirihara: What's this? Getting to number one was easier'n I thought.
Yukimura: What on earth is all this fuss?
(Third Year): Yukimura! Sanada! Yanagi!
Yukimura: It would seem you've been taken, sempai.
Sanada: You, new boy. What are you trying to pull?
Kirihara: What'm I trying to pull? Can't you tell by lookin'? Just now I made myself number one in this club!
Sanada: What's that?
Kirihara: But I guess the Nation's best ain't so much after all! I kinda thought you'd be a little stronger.
Sanada: You brat!
Yukimura: I think we might need to teach this one a little lesson.
Kirihara: What's all this? Why do I have to play a bunch of second years like you?
Sanada: Silence. Save your bullshit for when you win the match.




Yukimura: You'd best leave for the day. Even if you should continue, you have no chance of winning.
Marui: ...Hey, are you okay?
Kirihara: Shut up!
Marui: Hey!
Marui: ...Oh well, there he went.
Sanada: What a joke.



Yukimura: That boy didn't come today, either.
Sanada: When someone disturbs the observance of order, he is not qualified to join the Rikkai Tennis Club.
Yukimura: I see.
Sanada: However, talent... Isn't something I can let alone.
Yukimura: [chuckles]

---


Kirihara: Damn it! I lost the video game too? Who is this fem-freak anyway?!
Marui: That'd be me!
Kirihara: ...I might be first class, but there's no way I'm joining the tennis club!
Marui: What's that? Still can't deal with the fact that you lost?
Kirihara: Even though those guys are just second-years, what the heck are they?
Jackal: The people you faced...
Marui: -Who wants to stand around talking in a place like this? How 'bout we go eat some ramen? What? It's a treat of course! From Jackal here.
Jackal: From me?!

---


Jackal: You see? The ones who got Rikkai the National Cup last year... Were these three. Yanagi is called, 'The Master', Yukimura is called, 'The Demigod', and Sanada is called, 'The Emperor', as their second names. All together the three of them are called the Rikkai Tennis Club's "Big Three".
Kirihara: Big Three?
Marui: Basically, it's not just within Rikkai. Even out of the whole country, they're extraordinarily strong. You were facing guys that awesome. You should be happy!
Kirihara: I should be happy? I'm not going to be satisfied with that!
Jackal: You can play those guys until you're sick; it's probably just a matter of pure ability.
Marui: But that's fine! They're people you can be proud of.
Kirihara: I don't know anything about some "Big Three", but they're just middle schoolers like me! I'll take all three of 'em together and bring them down!
Jackal: Is he serious?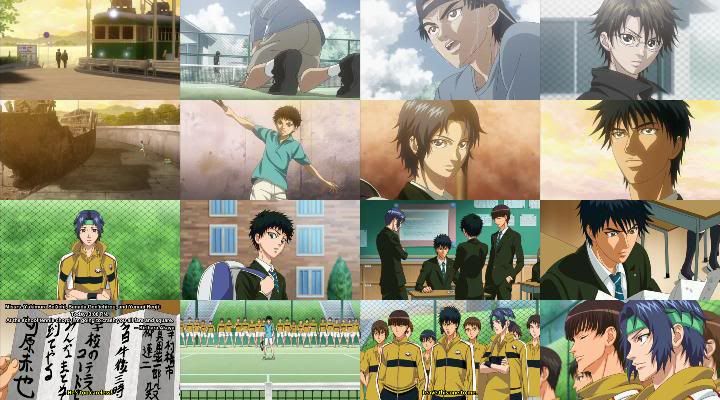 Yukimura: That boy... He reminds me of how you were back then. At the Junior Tournament two years ago, when you were in elementary school, struggling with that match, and Tezuka had come from nowhere to defeat you completely.
( Sanada: Someday... Someday, I... I'll become number one!)
Yukimura: After that you took up practice upon practice, and finally reached the highest peak.
Yukimura: People become stronger in measure equal to their knowledge of defeat.
Yukimura: Just as you did back then.

---


Kirihara: Today at three in the afternoon, come to the tennis court. An' don't you run off.
Yukimura: He's really quite a handful, isn't he?
Sanada: These kanji are full of errors. He's too careless!
( Missrs, Yukimura Seiichi, Sanada Genichirou, and Yanagi Renji:
Today, 3:00PN* At the school tennis chord*, I'm going to crash* you all fare* and square.
-- Kirihara Akaya.)


Sanada: Leave this one to me.
Yanagi: Well, Genichirou certainly is being personable.
Yukimura: He's unexpectedly fond of that reckless child.
Kirihara: Here I go.
Sanada: Oh? I'd say your power and speed have improved since last time.
Kirihara: If all you do is move your mouth, you'll suffer; just watch!
Sanada: Too weak! Be swift, just as the wind.
Jackal: There it is, Sanada's Fuurin Kazan.
Marui: Oh wow. I couldn't see the swing at all.
Yanagi: A Split-Step?
Kirihara: I'm not fallin' for the same trick!
Jackal: But that was Fuurin Kazan's Wind!
Marui: He returned it?!
Yukimura: Eh? So this opponent can keep Sanada in a rally...
Yanagi: But even still, Kirihara is outmatched. At this rate, he has no hope of winning.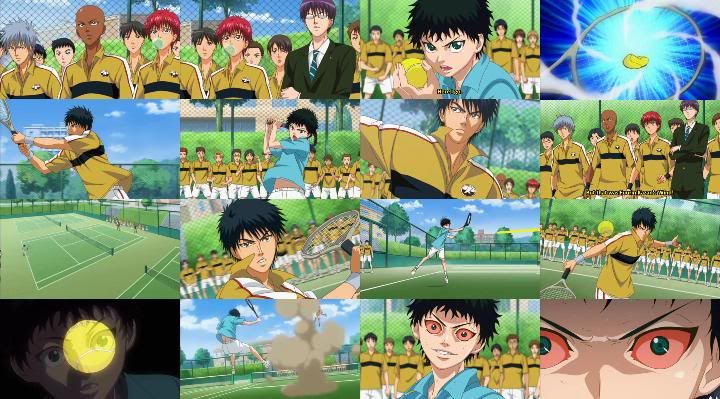 Kirihara: I'm going to defeat the "Big Three", and become number one!
Marui: A rising shot?
Sanada: Pursue silence, just as the forest.
Kirihara: He took away all the ball's power.
Jackal: Fuurin Kazan's Forest.
Kirihara: I'm not gonna lose!
Sanada: I'm finishing this!

---


Sanada: I'd say that does it.
Kirihara: Hold it right there. Don't you run off.
Marui: What's with his eyes?
Kirihara: I'm gonna waste you.
Jackal: Are you serious? Sanada's getting pushed around?
Marui: He should use the impenetrable guard, Fuurin Kazan's Mountain! Why hasn't he invoked it?
Yukimura: He did invoke it... Quite some time ago.
Sanada: That's fine-
Sanada: I'll just stop holding back!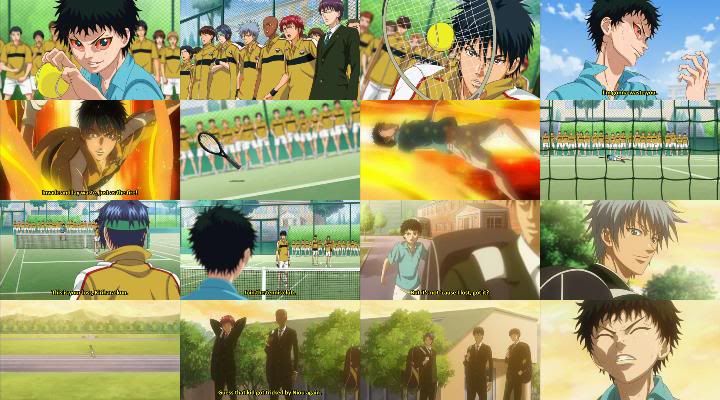 Sanada: Invade and lay waste, just as the fire!
Kirihara: What was that... just now?
Jackal: That's Fire. Sanada invoked Fire at last.
Sanada: What's wrong? Are you finished now?
Kirihara: Nowhere close!
Yukimura: That's enough! This is your loss, Kirihara-kun.
Kirihara: My...
Yukimura: That's right. This is your loss. With the strength you have now, no matter how often you try the result will be the same.
Yanagi: But you can become stronger.
Sanada: Join the tennis club. Set your eye on even greater heights. We will play you at any time.

---


Kirihara: I'm going to join the tennis club! But it's not 'cause I lost, got it? It's so someday I can beat you and become number one!
Sanada: Is that so? Alright. In that case, start with the basics. One hundred laps around the grounds, right now.
Kirihara: One hundred laps? Right now?!
Niou: [removes wig]
Jackal: Guess that kid got tricked by Niou again.
Marui: He really is a neat kid!
Yukimura: I'd say things are starting to get fun.
Sanada: Honestly, he's too careless!


(Images can be used, but I'd appreciate credit because it took ages to put them all together!)